Gaia Health Store
Seamoss with Bladderwrack & Spirulina 90 Capsules
Regular price
Sale price
£25.00 GBP
Unit price
per
Sale
Sold out
The fruits of the sea to empower your life
Introducing Sea Moss with Bladderwrack and Spirulina, a potent and transformative supplement that synergizes the profound benefits of sea moss, bladderwrack, and spirulina. This superfood trinity is your gateway to optimal health and holistic nourishment.
A Marine Treasure Trove
Sea moss, scientifically known as Chondrus crispus, is an edible sea plant harvested for its dense nutritional content. Alongside bladderwrack, another powerhouse seaweed, and spirulina, a blue-green algae, our supplement brings the treasure trove of the ocean to your fingertips​.
Nutrient-Dense Composition
Sea Moss Supreme is a cornucopia of vitamins and minerals, notably iodine, which is paramount for thyroid health. Moreover, it's packed with antioxidants, safeguarding your cells from oxidative damage. Bladderwrack complements by providing additional minerals, while spirulina enriches the blend with proteins and B vitamins​.
Invigorate Your Immunity and Digestive Health
The formidable combination of sea moss, bladderwrack, and spirulina bolsters your immune system. As a source of live bacteria and fibre, these seaweeds support a robust gut microbiome. With our Sea Moss mix, you're not only boosting your immunity but also fortifying your digestive health​.
Rev Up Metabolism and Heart Health
Embrace the metabolic and cardiovascular benefits of our Sea Moss Supreme. Its high fibre content curbs appetite, while its natural compounds promote fat metabolism. Moreover, seaweeds like bladderwrack have been found to reduce LDL cholesterol and act as blood thinners, which may help in maintaining a healthy heart.
Ancestral Wisdom and Modern Science
The Sea Moss Supreme is a nod to both ancestral wisdom and modern science. Sea moss has been used historically as a traditional fertility treatment and as a natural source of carrageenan. Bladderwrack and spirulina have also been revered for their nutritional profiles​.
Elevate your well-being with our unique Sea moss with Bladderwrack and Spirulina blend. Say "yes" to a life brimming with vitality and wellness. Experience the synergistic marine blend that's scientifically crafted to rejuvenate your body and mind.
Dive into the depths of marine nutrition – make Seamoss with Bladderwrack and Spirulina a pillar of your health regimen today.
Benefits include: Antioxidants & Detox, Energy Levels, Skin Care, Immune System & Inflammation Management, and Gut Health & Digestion
Share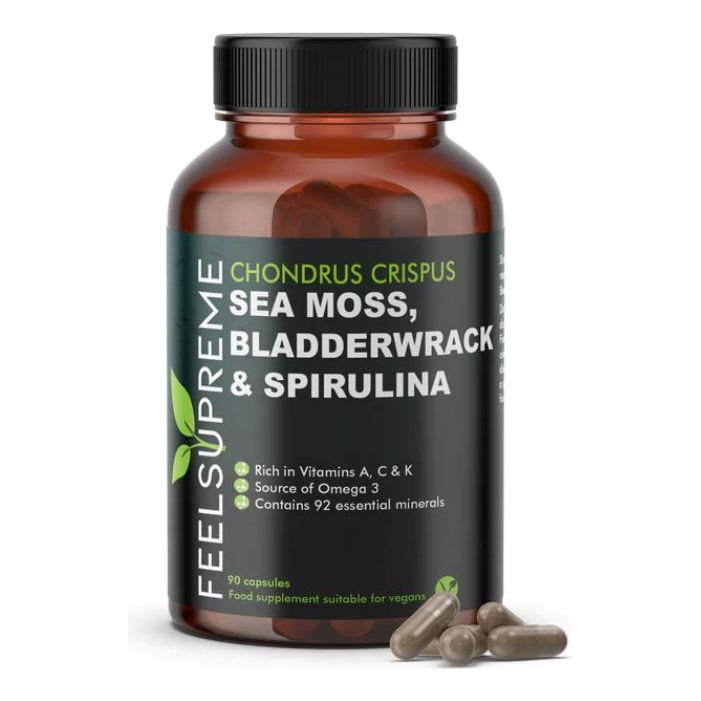 Answer your customers' common questions
List a frequently asked question

Then provide an answer that will help your customer make an informed purchase.
List another frequently asked question
List another frequently asked question